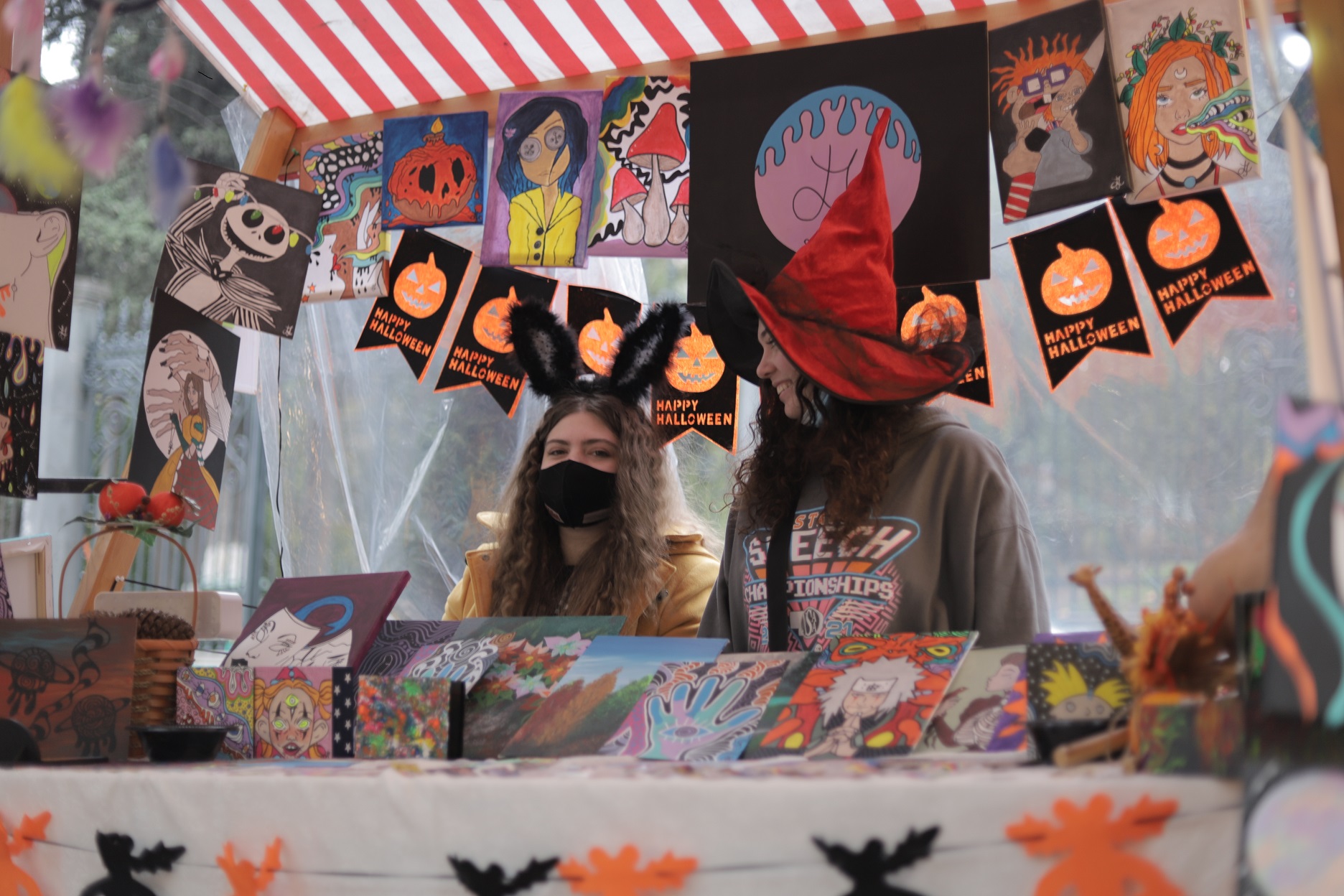 As election polls are about to be closed there is no voting in Diana's daily to-do list. A day before Halloween the 24-years-old girl, instead, is well prepared for the feast. With rabbit ears on her head, the young woman compares the elections to one of her favorite holidays.
''Maybe elections are people in costumes pretending to be someone else,'' said Diana, asking to be interviewed without a surname.
While Georgia voted in the second round of municipal elections on October 30th, many young people were reluctant to line up at the election polls. In the Caucasian country's capital city Tbilisi, where the woman lives, along with 5 major Georgian cities, the election runoff was between ruling Georgian Dream and recently imprisoned ex-president Mikheli Saakashvili's opposition United National Movement parties' candidates. According to the preliminary results, with 17% of the polls reported, the ruling party is leading in all the cities as of Sunday, October 31.
''It is not like I do not want to vote. I can vote but it makes no sense for the final result. Anyways the decision will be made not by people's choice but those who are sitting ahead, no one will consider your vote because they know exactly who should win, who should lose, and that has been going on for years now,'' Diana said.
The young woman believes Georgia lost the democracy it used to have before, and blames the current ruling party for undermining the country's democratic development. The political career Diana was dreaming for herself after graduating in International Relations at Tbilisi's Black Sea University had become more and more shadowed, as the situation in the country ''gradually worsened.''
''I wanted to go into politics and be there, but after seeing what is happening right now I don't want it any longer. Eventually I ended up working in the business sector even though I have two degrees in politics, as I don't see myself in politics here,'' she said.
Most of her course mates who achieved something in the field ''have the back of wealthy parents,'' she complains. On the election weekend, she came to support her younger sister to sell her paintings in an open-air market on Tbilisi's main avenue. No one in her family participated in the municipal election.
''What is happening now, people who do not vote decide the winner. Almost half of the voting population does not go to elections, parties are winning with a difference of 3-5 percent. Imagine if all these people go to vote,'' Teona Tomashvili said.
27-years-old Tomashvili is on her way back from Tbilisi to Gori, a town 85 km east-north from Tbilisi, after voting on 30th of October. Following 10 years of living in Georgia's capital city the young woman moved to her hometown temporarily because of the pandemic.
''Since I was 18 and it was legal for me to vote I never skipped an election, whether it was the first or second round. This is one of the main responsibilities as a citizen, there has never been a question,'' Tomashvili said.
Despite her dedication to social development, she does not witness much improvement in the country's political environment.
''I do not see it but it does not mean that I will not try my best to still go and try to change if I want to see the change," she explained.
Tomashvili's educational background is also in international relations, however now she works in the civil sector. Together with her friends they initiated Data Fest Tbilisi, an event aimed to raise public awareness about political and social issues using data design and technologies. The young woman believes that a solution to the current situation is difficult to find, but voting for smaller parties makes polarized politics more diverse.
''We don't have that luxury to stay distant from politics,'' shesaid.
Many young Georgians at her age agree with this statement, however also many say they are ''tired of expecting change.''
Giporter asked the young people in the streets of Tbilisi and Rustavi, where the second round of elections also washed, to get their opinion about elections and voting. Twenty five people took part in Giporte's vox-pop, and opinions are widely divided on this matter. While most of the people surveyed voted in the elections, there are many people who thought that the candidates were not the ones that would make an impact and take an active role for the sake of change in the country.
Thoma Sukhashvili from Tbilisi did not cast his vote. "I have to choose between bad and the worse", said Sukhashvili.
The main reason for the non-voters' decision is the clash of values between them and candidate parties. "I think they are different from us…They have different values from us. They do not fit us, and do not represent us," said 24 years old Sandro who did not want to give his surname.
Still, 16 out of 25 young people told Giporter that they believe in the power of voting.
"That is the only rational way to change something in the country," said Niko Shonia. These people believe that their voice is important, and it influences the course of the future.
In the recent Parliamentary elections of Georgia in 2020, people aged from 18-24 years, showed the lowest activity in the election polls, summing only 17,3 percent of the total turnout. 1 025 406 people, which was 49.09% of the total number of registered voters, cast vote in the 2nd round of municipal elections all over Georgia this year, Central Election Commission reported.